Department of Nursing and Patient Care Services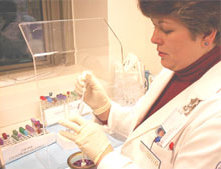 Department of Nursing & Patient Care Services
Mission and Goals
The Department of Nursing and Patient Care Services incorporates the philosophy of the Rockefeller University Hospital (RUH) and the Rockefeller University Center for Clinical and Translational Science (CCTS) into clinical practice and research.
The nursing department provides best practices for research participants enrolled in multiple research studies at RUH. The care of participants in the Outpatient and Inpatient units is served by the diversity of clinical expertise, skills, and support services of Nursing, Pharmacy, Bionutrition, and Social Services. An environment of Community is fostered with the safety and protection of research participants and adherence to research protocol as prime concerns.
Scope of Care
The clinical research nurses at RUH are licensed, specialized, professional nurses, focused on maintaining equilibrium between the care of the research participant and fidelity to the research protocol. This specialty practice incorporates human subjects' protection, care coordination and continuity, contribution to clinical science, clinical practice, and study management throughout the life of a protocol.
Skilled nursing assistants provide expert participant care, specimen collection, and processing. All nursing assistants are Basic Life Support certified, and nurses are Advanced Life Support certified. Unit secretaries, a social worker, and various contracted services provide additional support.
The research setting is an environment that brings the healthcare team and the research design together to understand the novel relationships that will ultimately benefit mankind. The process is both provocative and exciting, supporting the philosophy that the knowledge that bridges science and medicine is built on objectively sound data.