Department of Nursing and Patient Care Services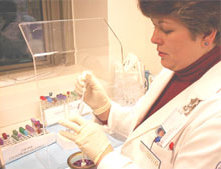 The Department of Nursing and Patient Care Services provides best practice for research participants enrolled in the multiple research studies at the Rockefeller University Hospital. The care of participants, both patients and volunteers in the Inpatient and Outpatient Units, is served by the diversity of clinical skills and support services of Nursing, Pharmacy, Social Work and Arts and Recreation. An environment of community is fostered with protection of human subjects and adherence to protocol as prime concerns.
The research setting is an environment that brings the health care team and the research design together in an attempt to understand the novel relationships that will ultimately benefit mankind. The process is both provocative and exciting, supporting the philosophy that the knowledge that bridges science and medicine is built on objectively sound data. Clinical Research nurses provide specialized support to clinical investigators. They are members of an interdisciplinary research team dedicated to conducting clinical translational research. They are expert at performing on-going informed consent assessments and provide assurance to the entire research team that protection of human subject participants is being adhered to throughout the implementation of the study, and develop and implement cutting edge techniques in data and specimen collection. They are also expert at processing and storing data and specimens.1
The Rockefeller University Hospital is a free standing research hospital operating 20 inpatient beds. The Inpatient and Outpatient Units and the Procedure Suite welcome research participants in modern and newly renovated accommodations. A staff of Clinical Research Nurses and skilled nursing assistants provides expert care. Unit secretaries, messengers and various contracted services provide supportive services. Education includes research training and clinical reviews. All professional staff are Advance Cardiac Life Support certified. Nursing Assistants are Basic Life Support certified.
References:
1. McClary, K. & Offenhartz, M. Clinical research nurses give new meaning to "protect and serve". NY/NJ Nursing Spectrum (April 24, 2006). 22-23.